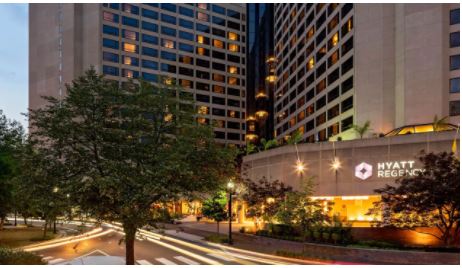 Hyatt Regency Crystal City at Washington National Airport
2799 Richmond Hwy
Arlington, VA 22202
Reservations: 703-418-1234
Mention Group Name: 2022 Nuclear Deterrence Summit
COVID & Safety
As we are excited to bring our community together in 2022, we will do so in a responsible and safe way. We are following all local, hotel and CDC guidelines regarding the health and safety of our attendees. We also have numerous safety measures already in place to protect everyone's health and well-being and you will see them when you arrive.
Hyatt – Guided by our purpose of care and experience delivering world-class hospitality for more than 60 years, Hyatt's Global Care & Cleanliness Commitment builds on our existing rigorous safety and cleanliness protocols.
Travel Information
We are please to offer the following travel discounts:
United Airlines
| Airline
You may book online at www.united.com and enter your offer code (ZKKK611061) in the Offer Code box when searching for your flights.
MileagePlus members earn Premier Qualifying Dollars and miles for their travel.
You may also call United Meeting Reservation Desk at 800-426–1122 (Mon–Fri 8:00 a.m.–10:00 p.m. Eastern Time, Sat–Sun 8:00 a.m.–6:00 p.m. Eastern Time)
Booking fees are waived for Meeting reservations. International customers may contact their local United Reservation Desk.
Delta Air Lines is pleased to offer special discounts for Nuclear Deterrence Summit participants.  Please click here to book your flights!
You may also call Delta Meeting Network® at 1-800-328-1111* (Mon–Fri, 7:00 a.m.–7:30 p.m. Central Time)
Meeting Event Code: NMV9L  
* Please note there is not a service fee for reservations booked and ticketed via our reservation 800 number.
Ronald Reagan National Airport (DCA)
| Airport
Hyatt offers a complimentary shuttle to and from
Reagan National Airport/DCA, every 20 mins:
* Shuttle runs from 4:40 am –12:00 am Midnight,
* Airport Terminal A: 2nd curb by the marked "Hotel Shuttle" stop location
* Airport Terminals B & C: Door 2 and Door 4 on the Departure/Ticketing Floor by the marked "Hotel Shuttle" stop location.
Travel Distance: Approximately 2 miles to hotel.
Taxi: Estimated Fare: $20 USD
Dulles International Airport (IAD)
| Airport
Travel Distance: Approximately 30 miles to hotel.
Taxi: Estimated Fare: $55 USD
Baltimore Washington Intl. Airport (BWI)
| Airport
Travel Distance: Approximately 41.0 miles to hotel
Taxi: Estimated Fare: $90 USD
Metro
| Alternate Transportation
Hyatt offers a complimentary shuttle to and from the Crystal City Metro Station every 30 mins:
Schedule:
* Mon – Fri: 6:00 am –10:00pm,
* Sat – Sun: 7:00 am –10:00pm,
* Picks up in front of the Hotel, and at Crystal City Metro Stop (18th and Bell St.)